September 2013 – New Project in Chiquisis, Guatemala
In March of this year FogQuest began the evaluation stage of a new fog collection project in Guatemala in cooperation with our local partner Vivamos Mejor (VM), a Guatemalan NGO whose executive director is Eduardo Secaira Juarez. Two volunteers went from Canada, Dr. Richard Taylor and Craig van Lankveld (see photo). They worked with staff of VM, and people in the village, to set up three Standard Fog Collectors (SFCs) and one Medium Fog Collector (MFC) (see photo).
The principal goals for the trip were to do an initial village needs assessment and to put the infrastructure in place to enable the fog collection rates to be determined. The village of Chiquisis has a population of approximately 750 people, living in 140 houses. The location chosen to erect the fog collectors is a 20 minute walk east of the village. From here, fog water could be taken by pipe into the village and should the evaluation show there is sufficient water production, the next stage would be to plan a major water supply using Large Fog Collectors (LFCs).
At present, there is one large tank (see photo) beside the MFC. The villagers only local source of water is an inconsistent spring accessed by earth trenches about a 30 minute walk uphill from the homes. The village needs assessment prepared by Craig and notes on the materials and their costs prepared by Rick are very helpful documents. The reports by VM show the measurements are now going well. Because we are in the rainy season at present, very large amounts of water are being produced by the SFCs and the MFC on days with rain, or rain and fog, and lesser amounts on days with only fog. This is as expected and so far the results for the site are positive.
We will have to continue the evaluation into the next dry season to better understand the seasonality of the water production. We will also have to spend more time with the villagers to see how they envisage a new water supply helping their community.
Your support through donations to FogQuest will help us to carry out this work.
---
September 2013 – FogQuest Makes Conference Proceedings Available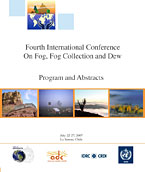 For a number of years it has not been possible to purchase copies of the proceedings from the earlier conferences on fog and fog collection.
In response to requests from libraries, scientists and others interested in the field, we have now scanned the proceedings from the 1998 Conference in Vancouver, Canada, the 2001 Conference in St. John's, Canada, the 2004 Conference in Cape Town, South Africa, and the 2007 Conference in La Serena, Chile.
This makes a total of over 400 excellent short papers available for easy download. Please visit our Conference page or the FogQuest Store on this website if you would like to acquire a copy of one or more of the proceedings volumes.
---
August 2013 – FogQuest projects featured at UNESCO Conference
FogQuest´s unique integrative project approach that addresses the physical and social considerations needed for successful projects has been recognized internationally. In May 2012, FogQuest´s Fernanda Rojas presented a paper on two of our initiatives at the UNESCO Conference on Technologies for Sustainable Development held at the Swiss Federal Institute of Technology in Lausanne.
Co-written with Virginia Carter and Melissa Rosato, Fog Collection Technology Transfer and Co-Creation Projects in Falda Verde, Chile and Tojquia, Guatemala (http://link.springer.com/chapter/10.1007/978-3-319-00639-0_23) was chosen out of 82 submissions for inclusion as a chapter in the book: "Technologies for Sustainable Development: A Way To Reduce Poverty?" published by Springer in August 2013.
The themes of empowerment and knowledge sharing discussed in the chapter are critical for methodologies that value capacity building and sustainability. It is our hope to continue sharing our lessons learned with the wider development community in order to increase the potential for successful fog collection projects.
---
August 2013 – New pilot project in Nepal
Building on the success of a two panel project at the Prathivara temple in the Ilam district, a new pilot project with a new SFC data recording system and some different structural materials will be established this October in the Tapeljung district of eastern Nepal. This project involves three partner agencies; FOST (Foundation for Sustainable Technologies) in Kathmandu will assist in the construction, Toronto based NCDF ( Nepal Community Development Foundation) is financing and developing the collector, and NCDC ( Namsaling Community Development Centre) will maintain the system and monitor the collection data.
FogQuest continues its participation in the fog collection projects in Nepal through the involvement of one of our directors, Tony Makepeace, and guidance on construction, materials and sites.
This project will feature a new and experimental method of recording the collection data. NCDF director Byron Bignell has been developing an automated data-logging system to record the volume of water collected by an SFC. The system is solar powered and uses a combination of hardware and software to record data from a tipping rain guage. The information is stored on a memory card internally for later retrieval.
The image shown on the left is an earlier SFC that was installed in 2008 in the evaluation stage for the larger system that is currently in place and operational in eastern Nepal.  We hope to build on this success and add more systems as demand and awareness increases.
---
May 2013 – Successful Conference in Yokohama, Japan
The conference in Yokohama was a great opportunity to renew old friendships and to discuss the latest research and news concerning fog, fog collection and dew. It was one of the smaller conferences in terms of numbers, about 120 participants from about 25 countries, but one of the most pleasant due to the constant attention received from our hosts and their volunteer staff.
Professor Manabu Igawa and his superb organizing committee did a wonderful job of seeing that we spent long hours in conference sessions while still finding time for a tour of the Japanese countryside and a relaxing banquet cruise in the Yokohama harbour. For those of you who have not experienced the strong bonds that have developed amongst those working in this specialized community, you are invited to join us at the 7th International Conference on Fog, Fog Collection and Dew in Wroclaw, Poland in 2016.
There is more information on the FogQuest Conference page.
---