Nepal 2001 – Ongoing
Fog Collection Operational Project
---
Update 2012 and Background

The Nepal Water from Fog Project (NWFP) was started in the spring of 1997 on the initiative of Kevin Kowalchuk, who had previously worked in Nepal on a film project. Kevin made contact with fellow Canadian Robert Schemenauer and they discussed how a water project using fog collectors might be initiated to help the people in the mountain villages of Nepal.
Dr. Schemenauer, working with Environment Canada and later FogQuest, developed the fog collection technology together with a group of university and forestry specialists in Chile. They have carried out projects in many countries and had worked previously with the Canadian Centre for International Studies and Cooperation (CECI) in Ecuador. CECI was approached to be involved in a project in Nepal and subsequently has provided volunteers for the project and other valuable assistance. In May 1997, the first 1 m2 Standard Fog Collectors were set up in Nepal in two locations: Khumjung, in the Everest region and Gotvangan near Kathmandu.
Subsequently, Pablo Osses, who was the first Field Operations Manager of FogQuest, went to Nepal to transfer the technology related to site selection and the construction of large fog collectors. FogQuest has maintained contact with all of the small fog collection projects in Nepal since the beginning and provides assistance and guidance as needed. The main Nepalese NGO involved in the construction of fog collectors in recent years has been Nepal Water for Health (NEWAH). Some funding has been provided by SIMAVI. New projects will be managed by NCDC ( Namsaling Community Development Center)
Their main contact point is one of the FogQuest directors, Tony Makepeace, who is in Nepal on an annual basis and who has cross appointments with groups directly supporting development activities in Nepal. There are presently seven small village fog collection projects in Nepal.
Locations of current projects in Nepal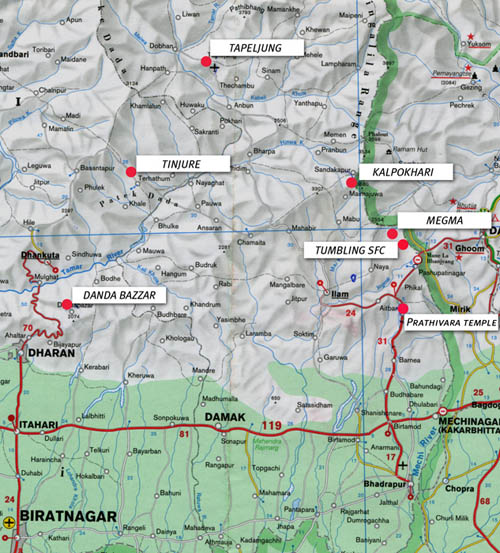 Prathivara Temple, Ilam
This fog collection system in eastern Nepal serves the Prathivara Temple with an average of 500 liters of water per day. It was set up in December 2009 with the assistance of SIMAVI and NEWAH. The temple is situated on the top of a hill in the eastern part of Nepal, location indicated on the map below. The video below describes the project further.
Approximate location this project.